I thought I would make a knitting post as my first "real" post on my new site. If I'm not reading, or drawing, or walking the dog. I'm knitting, so I thought I would share one of my recent favorite patterns found on Ravelry. This pattern can be found via the following link. Best of all this pattern is FREE!

https://www.ravelry.com/patterns/library/escarpment-cowl-2

This is a simple and quick knit. I made these as Christmas gifts, which were a big hit. Best part about this pattern is that you can adjust it easily or knit in a different weight or needle size. All you really need to do is make sure the neck opening measures to the specified measurement. I always look for adjust-ability in a pattern because I tend to look for patterns to knit with yarn in my stash rather than buying yarn specifically for a project.

You can also knit it longer or shorter, depending on what you want to achieve. I have knitted the pattern much longer than it calls for, which I preferred. You can also knit it shorter if you want to achieve a smaller bandana look. I've tried this using sock weight, and DK. I'm thinking I want to make another in a nice worsted.

Happy knitting.

Above: First cowl finished. Yarn used Malabrigo Mechita 121 Marte.

Images copyright April Borrelli 2019.

Slowly working on a new site with an updated gallery and a better blog! My hope is to make it more cohesive and post more often. As you can see, there is not much here right now. Hoping to share some art, crafts, and knitting projects with everyone soon-ish.

April : )


Author


My name is April Borrelli.
I am a crafter, knitter, photographer, illustrator. This blog is a collection of my arts, crafts, hobbies and probably a pet picture every now and again. I hope my posts bring a little bit of happiness to your day. For more about me visit my ABOUT page.


---

---

Archives


---

Categories


---

© 2019 April Borrelli.
All rights reserved. Please don't use, reproduce,
re-post or alter artwork and images without written permission. Artwork is an intellectual property and is protected by the copyright law.

Powered by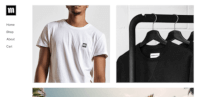 Create your own unique website with customizable templates.